Death as Life's Work: Waterloo Region Undertakers and Funeral Businesses, Illustrated Histories 1850 to
2020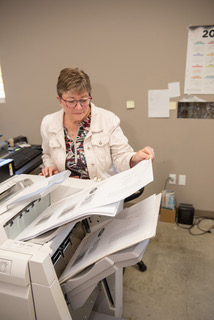 by Marion Roes, author and self-publisher
Death as Life's Work comprises histories of people in a seldom researched profession, one that affects the life of most people, funeral practices. Two of the 30 interviews are with women funeral directors, licensed for 25 and 53 years respectively. Three other women, whose family funeral businesses were sold years ago, shared their experiences growing up in a combined family and funeral home. Wives and children were an integral part in the family business, whether it was funeral service alone or combined with other occupations. My memories and comments are interspersed throughout. Along with the personal stories, there are about 140 names researched, 500+ photos including vintage vehicles, in 548 pages.
What instigated my research for all of Waterloo Region was the discovery that my great-grandfather Christian Dreisinger, was a partner with other undertakers in Waterloo and Kitchener. I thought the furniture store and funeral home in Elmira, established in 1904, was his only enterprise. A dearth of information in history books about those two businesses was disappointing, and I thought I could fill that gap in Waterloo Region history. I think I have. Each funeral director interviewed reveals their commitment and passion for their work, their calling.

Not all remarks and memories are death related. When telephones were invented and each time that technology changed, it affected their social life and business practices. A surprise might be the extent of collaboration and mutual help amongst the funeral homes in rural areas and small towns. Books are available within the Region in books stores in Kitchener, Waterloo and Elmira; museum gift shops in Kitchener, and a funeral home in Wellesley. I am selling, and will mail within the Region and elsewhere.
Contact me at mlroes@sympatico.ca for book stores and other details. Cost is $80 plus $20
if mailed.
E-Mail: mlroes@sympatico.ca
Twitter: MarionRoes
Facebook: Undertakers and Their Businesses in Waterloo Region