A new virtual exhibit is now available on the Archives and Special Collections (ARCS) website: Women's Archives. Explore our collections! This exhibit introduces the contents of the Women's Archives for members of the university community and for outside visitors. The exhibit will allow you to discover key actors and events involved in Canada's second wave feminist movement.
The exhibit is divided into several themes. Each theme contains a timeline, spanning from the 1960s to the 2000s. The timelines are enhanced both by in-house archival documents and by related outside sources. The timelines do not claim to be exhaustive in their overview of the evolution of the Canadian women's movement; rather, they serve as a tool for exploring archival documents that are sometimes unpublished!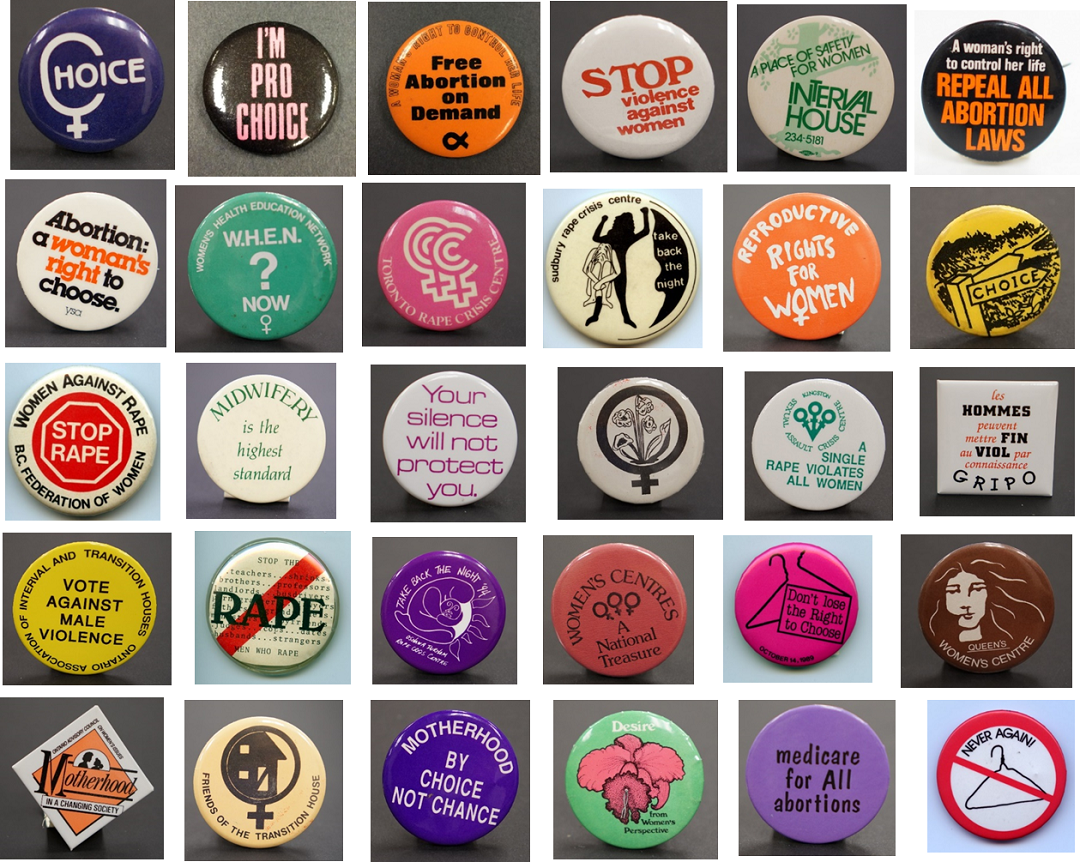 Three themes are currently exhibited. The "Women's Health Movement" illustrates how women engaged in collective processes and personal reflections to challenge misogynistic domains of authoritarian health knowledge. The theme, "Bookshops, Publishing Houses, Periodicals" testifies to the rise of women's literature and women's press—essential to the contemporary dissemination of feminist ideas and reflections. ARCS holds numerous archival fonds of publishing houses, as well as one of the most significant collections of feminist periodicals in Canada. Finally, the timeline: "Against violence against women," allows you to discover how women raised awareness of violence against women to change existing mentalities and laws.
This exhibition is permanent. Stay tuned! As time goes by, new themes will be added to this exhibit, offering the public an ever-wider panorama on the Women's Archives. Happy discovery!
Link to exhibit: https://biblio.uottawa.ca/en/archives-and-special-collections/exhibitions
Link to exhibit through ARCS Website: https://biblio.uottawa.ca/omeka1/arcs-en/exhibits/show/timelines
Nouvelle exposition virtuelle sur les archives des femmes!
Une nouvelle exposition virtuelle est désormais disponible sur le site web des Archives et collections spéciales (ARCS) : Archives des femmes. Découvrez nos collections! L'exposition constitue une entrée en matière intéressante sur le contenu des Archives des femmes, tant pour les membres de la communauté universitaire que pour les visiteurs extérieurs. Elle vous permettra de découvrir des acteurs et des moments clefs du mouvement féministe canadien de la seconde vague.
L'exposition se décline en plusieurs thèmes. Pour chaque thème, une ligne de temps qui s'étend des années 1960 aux années 2000 est proposée. Les lignes de temps sont illustrées à la fois par des documents d'archives issues des collections, et par diverses sources extérieures qui les complémentent. Les lignes de temps ne prétendent pas être exhaustives dans l'approche historique de l'évolution du mouvement féministe canadien, mais bien un outil d'exploration de documents d'archives parfois inédits!
Trois thèmes sont actuellement proposés. « Le Mouvement pour la santé des femmes » illustre la démarche collective de contestation de la misogynie des savoirs autoritaires en matière de santé, et la démarche personnelle des femmes pour une réappropriation de leur corps et de leur condition de santé. Le thème « Librairies, Maisons d'éditions, Périodiques » témoigne de l'essor de la littérature et de la presse féminine, essentielles dans la diffusion des idées et des réflexions féministes de l'époque. Les ARCS conservent notamment de nombreux fonds de maisons d'éditions, ainsi qu'une des collections les plus importantes au Canada de périodiques féministes. Enfin, grâce au thème « Contre la violence faite aux femmes » vous découvrirez des stratégies et modes d'actions adoptés pour conscientiser la société sur les violences faites aux femmes, faire évoluer les mentalités et les lois en place.
Cette exposition est permanente. Restez à l'affut! Au fil du temps de nouveaux thèmes viendront enrichir ce premier ensemble afin d'offrir au public un panorama toujours plus élargi sur les Archives des femmes. Nous vous souhaitons de belles découvertes!
Accès direct à l'exposition : https://biblio.uottawa.ca/omeka1/arcs/exhibits/show/lignes-de-temps-tests
Sur le site Web des ARCS :https://biblio.uottawa.ca/fr/archives-collections-speciales/expositions